If it were up to her, Bo's interior would look even more colorful and exuberant. But it is already a great spectacle where original compositions have been created (almost) only with second-hand furniture and decoration. She gives a tour of her eccentric, renovated farm. "I like the eclectic: a nice mix of antiques to space age."
Life is for the daring. When Bo's daddy tipped her that there had been no signs of life in a nearby farm for years, she went looking for the owner. "It turned out to be an elderly man who was staying in a retirement home. When I inquired with his sons, they were open to a sale," says Bo.
Everything is second-hand, from the vases to the animals
"I especially liked the location: in the quiet, next to a meadow and without any view from neighbors, and close to my parents and to Brussels. With a little imagination, the facade had charm, but inside there was not much left to save. I didn't have a clear idea of ​​what it should be, but luckily I found an excellent architect who could make something of it even with a limited budget. He had all kinds of original ideas, such as the large void, the wide staircase, the columns to create some separation in the open living space …"
(Read more below the photo.)
Bo may put the feathers for the original furnishing on her own hat. "I pass trends such as moss green and terracotta. It could be a lot more exuberant and rebellious. I love the interiors of Paulette in 't stad and Dries Van Noten and would like to go even further than what you see now, but I also have to take my friend into account. He can barely live with the giant phoenix above the TV that comes from a Chinese restaurant, but I had to sell the accompanying dragon that I wanted to hang next to it. I will try to warm it up for a striped pattern under the sloping roof wall."
Except for the table of La Redoute, all furniture and decoration are second-hand. "What started out of financial necessity, grew into a passion and even my profession (see box, ed.). While most play it safe and opt for the typical Scandinavian wooden furniture from the fifties and sixties, I prefer the eclectic: a nice mix of antiques to space age."




I bought the ducks against the wall in the hallway and the fox on top of the cupboard in the sitting area from a woman who loved animals.

bo
Everywhere in the house Bo makes beautiful compositions with her found vases, curiosities and especially animals. They come in all kinds of shapes: figurines, drawings, paintings and mounted. "Those are also pure vintage. They usually meant a lot to the people I bought them from. I bought the ducks against the wall in the hallway and the fox on top of the cupboard in the sitting area from a woman who loved animals. Because she wasn't allowed to keep one in her rented house, she went to a taxidermist. She was very attached to them and after she passed away, her husband just wanted them to be well."
From valuable vintage sofa to Urban Outfitters textiles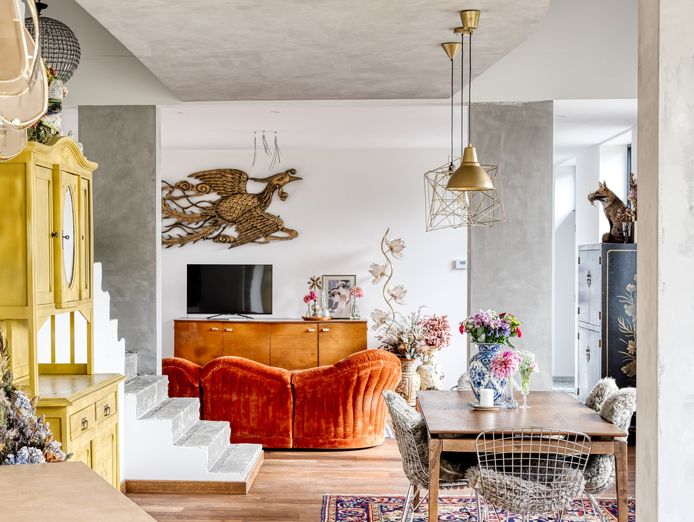 With the stairwell on the left and the void on the right, two openings have been made to the side, which ensure that there is always contact between the office on the landing and the ground floor. The cabinet on the left isn't that special, but it was Bo's first purchase and therefore it has sentimental value. The sofa is very valuable, because it is an original Roche Bobois copy from 1978, for which you can easily pay thousands of euros today. Above the television you see a golden phoenix from a Chinese restaurant.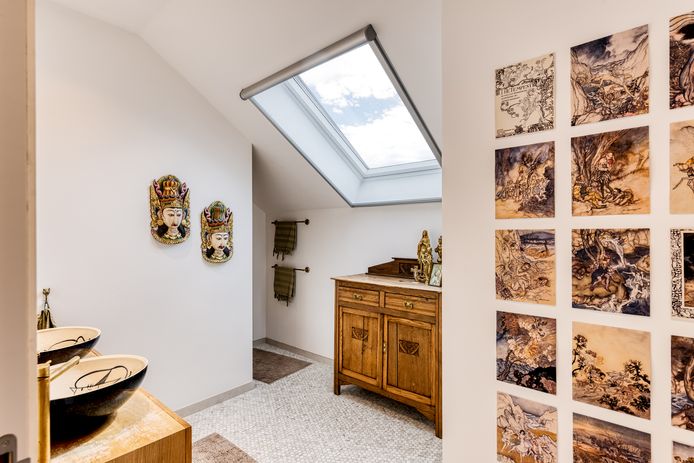 With the stories behind all the stuff you can fill a book in every room. Even in a room like the bathroom. Upon entering, look at images of Arthur Rackham telling the story of 'The Storm' of William Shakespeare. "I did get the order mixed up, otherwise the color balance wouldn't be right. The eye wants something too," laughs Bo. The painted washbasins come from Poland and are on a wardrobe that actually belongs in the living room. Two Indian masks hang on the wall.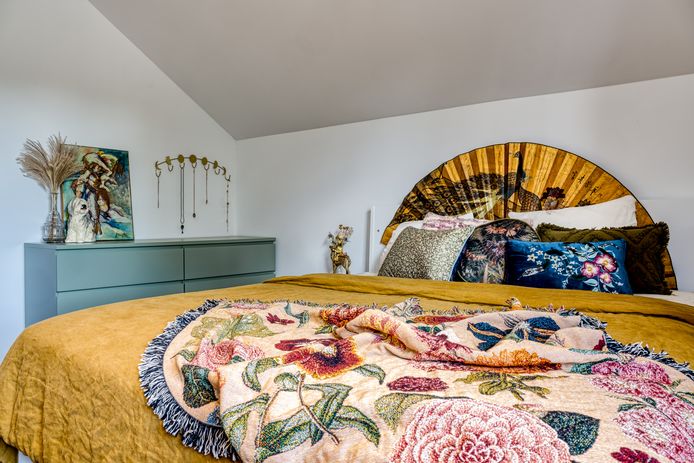 Because of the colorful decoration you can't help but start the day cheerfully. "The textiles are from Urban Outfitters. We had it come over from America, because they don't offer it in Europe. Because of its size and appearance, I thought the fan was perfect to play as a headboard."
A slanted kitchen island and a visible heart for animals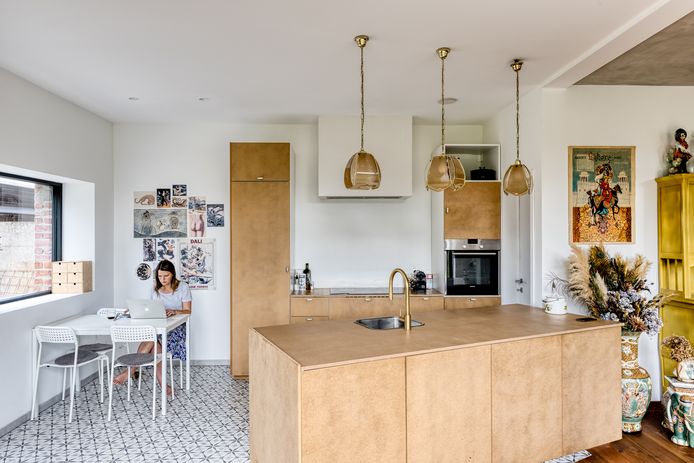 In an open kitchen it is of course the intention that you are involved in the rest of the living space. But with an island that sits behind a wall and looks out, that is not obvious. The architect solved this as simply as ingeniously by positioning the island at an angle. In this way, there was also more room to move behind. The kitchen consists of IKEA cabinets that are finished with fronts in untreated MDF. "I couldn't decide what color I wanted and now I can go either way." The door handles are from Zara Home.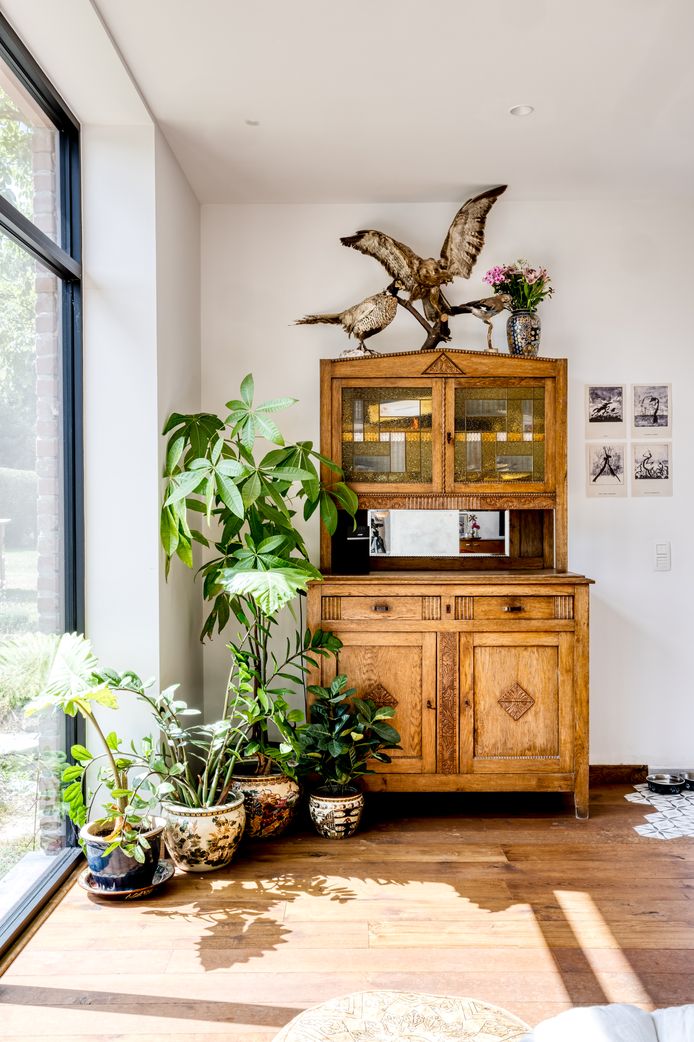 Bo is an animal lover. She has a dog and a cat with Pitou and Willy. She also has a lot of stuffed animals in her interior. They are all vintage pieces from animals that died naturally. They mainly come from France.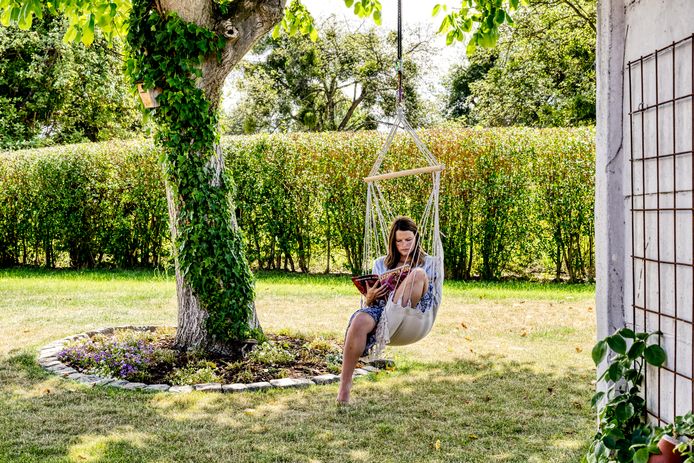 • Bo De Bisschop (31) studied art history. She lives with her boyfriend Arnout Verstraeten (32) in a renovated farm in Liedekerke (Flemish Brabant).
• Bo used to work in a clothing boutique, but her passion for vintage tickled too much and that's how the VintageVonk shop was born, with a more personal approach, quick response time, approachability and an original offer.
@vintagevonk on Instagram
• During the weekend of September 24 and 25, VintageVonk will have a stand at Brussels Design Market. The fair is celebrating its 20th anniversary and is inviting 150 international exhibitors for the occasion.
Also read:
More color in your interior? Thanks to these 6 tips you will succeed: "This color is perfect for the kitchen"
"Then the chair cost 70 euros, now you pay more than 1,000 euros." Old IKEA furniture can make you a lot of money (+)
A cool and cozy room without the big expense? 3 experts give tips. "This item is an absolute must"
Free unlimited access to Showbytes? Which can!
Log in or create an account and don't miss out on any of the stars.

Yes, I want free unlimited access