Backlight

NPO 2, 8.28 pm
Research collective Bellingcat uses public information sources that can be consulted and checked by anyone, mostly online. The Dutch investigative journalist Christiaan Triebert, currently working for The New York Timesbelieves that this form of investigation is conducive to confidence in journalism, which has been damaged in some quarters. Backlight presents a portrait of Triebert, who in the past conducted research for Bellingcat into the Turkish coup attempt in 2016.
The Shining

SBS 9, 8.30 pm
(Horror, Stanley Kubrick, 1980) In this masterful Stephen King adaptation with wife and son, writer Jack Torrance (Jack Nicholson) gets snowed in at the gigantic, remote Overlook Hotel and continues magnificently, in the spirit of the hotel keeper who preceded him many winters ago. The hotel serves as an inscrutable labyrinth that constantly changes shape, for both the main character and the spectator. The model used to be the Stanley Hotel in Colorado: in this neo-Georgian, allegedly haunted building, King is said to have devised his novel. Incidentally, the author himself could only moderately appreciate Kubrick's adaptation: cleverly made but empty, King thought.
Jumanji: Welcome to the Jungle

Just 5, 8.30 pm
(Adventure, Jake Kasdan, 2017) Director Jake Kasdan hits the mark with his update of Jumanjic (1995), a 1990s blockbuster about an enchanted board game, on a different note from predecessor Joe Johnston. While the rather creepy original was all about the special effects and the comedic talent of Robin Williams, the 2017 version is a cheerful ensemble film that places the protagonists in a computer game. The screenwriters shifted attention to the relationships between the characters and especially to the fantasy: what would it be like to suddenly be a character in a computer game?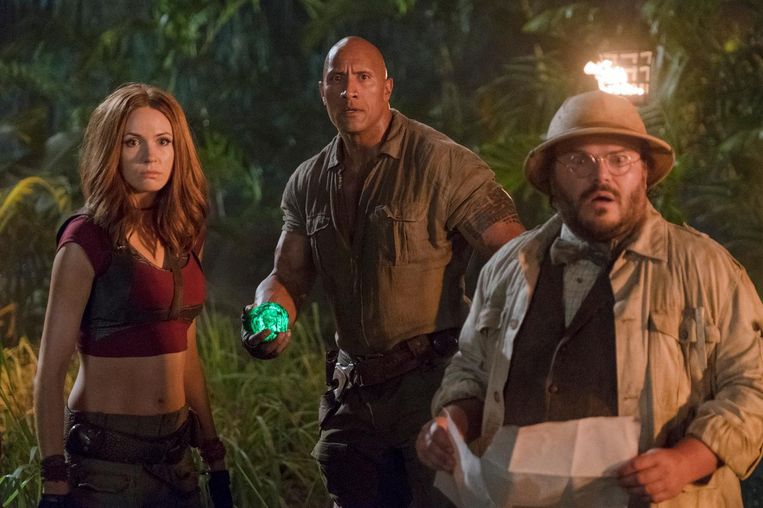 Inside Man

BBC 1, 10pm
From the pen of Steven Moffat, who earned his spurs with BBC series such as Doctor Who and Sherlockcomes the new series Inside Man. The story revolves around four characters who become entangled and asks what it takes to turn someone into a murderer. David Tennant plays a priest who goes to the station to pick up his son's tutor (Dolly Wells). Meanwhile, a journalist (Lydia West) is looking for a good story and a death row inmate (Stanley Tucci) awaits his execution in America.
Fault lines

NPO 2, 22.18 hours
In the series Fault lines Sinan Can takes stock in the banlieues of Europe. Not only in Paris, but also in London, Brussels and Stockholm. In these so-called Sharia neighbourhoods, unemployment is high, poverty is high and the gap between migrants and the native population is unbridgeable. Can investigates what is going on and wonders what the Netherlands can do to prevent the creation of such no-go zones. Today Can is in Clichy-sous-Bois, where African immigrants say that life was better in the slums they escaped.
Evil by Design: Surviving Nygård

Canvas, 10.55 p.m.
The successful Finnish-Canadian fashion designer Peter Nygård has enjoyed golden times with his fashion brand over the past twenty years. That came to an abrupt end when an investigation into him was opened in 2020. Dozens of women accuse Nygård of raping them at his vacation home in the Bahamas. In most cases, the victims were minors. In the first episode of Evil by Design: Surviving Nygård it turns out that stories of Nygård's misconduct had been circulating much earlier, but that the victims were intimidated.
The Conjuring 2

SBS 9, 10.55 pm
(Horror, James Wan, 2016) When paranormal investigators Lorraine and Ed Warren come to the aid of a single mother and her brood in their gloomy London terraced house, English haunted houses are also cracking doors and pale teenage girls fall into demonic cursing. Fortunately, director Wan uses the clichés with flair in this excellent sequel, and sometimes comes up with something new. Cool, the scene where the possessed daughter turns into a long-dead old man, while the camera work keeps her out of focus, so you're never sure what you're seeing.