TVWhether it's 'Family', 'Home', 'Neighbours' or 'Sturm Der Liebe': the majority of Flemish people do have a fixed appointment with their favorite soap. We keep our finger on the pulse in soapland so that you don't get hungry between broadcasts. Because not only on the set, but also behind and next to the screen there is a lot to experience. Discover it every week in our soap check.
'Home': children not allowed
'At home' colleagues Lynn Van den Broeck (Viv, 29) and Mathias Vergels (Lowie, 30) took advantage of the short break in the TV studios to book a hot autumn break. Before that, the couple went to Bakau on the Atlantic Ocean in the African Gambia. In addition to being a paradise location, their boutique hotel was also very quiet and quite intimate with only 24 rooms and above all: children not allowed.
'Family': minus 10,000 degrees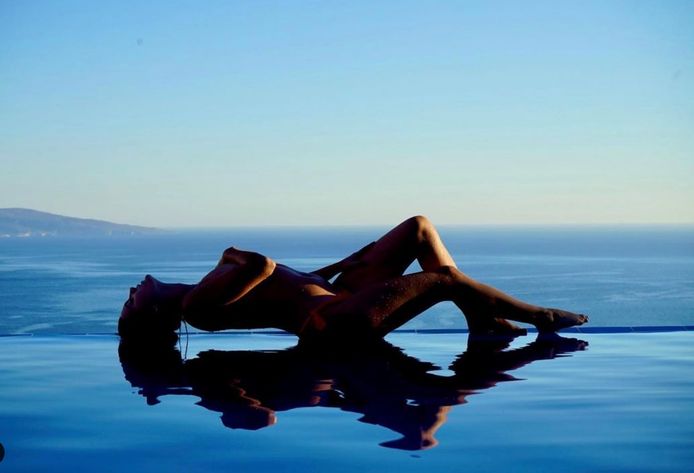 'Family' actress Sarah-Lynn Clerckx (30) enjoyed the Greek sun and made her followers jealous with this impressive poolside pose. Although it sounded putative in the caption: "We had to endure a temperature of minus 10,000 degrees in that water to be able to take this photo, but it was worth it." Sarah-Lynn's program also included a visit to the archaeological site of Knossos in Crete, considered the first city in Europe. "Since I was fourteen, my life's mission was to see that place in real life," she captioned the selfie.
'Home': just missed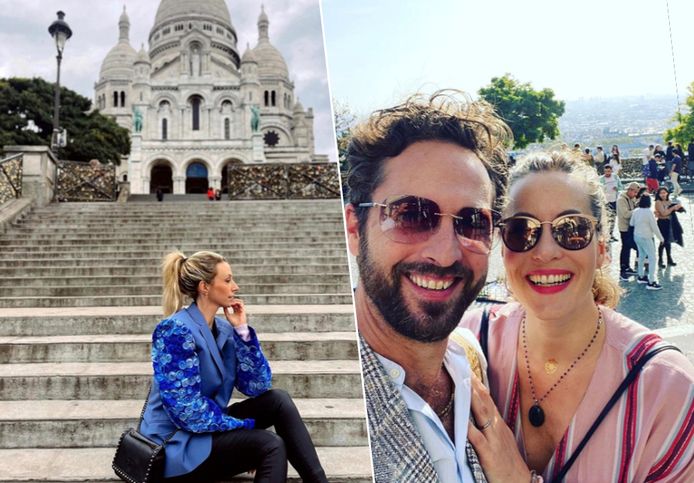 What a coincidence! During the autumn break, 'Home' actor Christophe Haddad (Bob, 44) and his wife Sanne (40) visited Paris and shared a selfie from Montmartre at the Sacré-Coeur Basilica. "With the love of my life in the city of romance and beauty. It was a lovely moment alone with the two of us", was the commentary accompanying the photos. However, it didn't matter if Christophe and Sanne were not just the two of them, but the four of them. 'Home' actress Tine Priem (Tamara, 34) posted on her socials just one day later that she was also in Paris for her 34th birthday and judging by her photo, she also had the Sacré-Coeur on her to-do list.
'Family': real family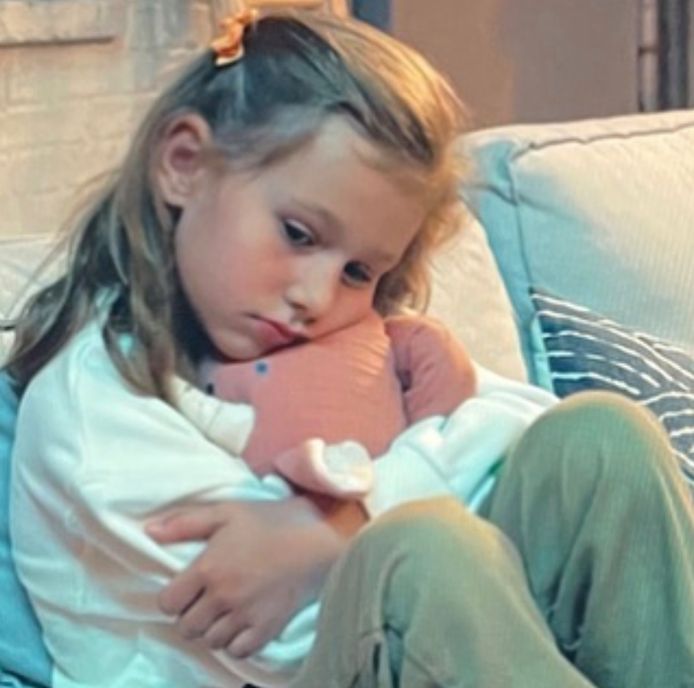 Finn (Sam Van den Bosch, 7) has turned up in 'Family', the biological daughter of Rudi (Werner De Smedt, 52) who grows up in the series with a lesbian couple. The viewer will notice few physical similarities between Rudi and Finn, but perhaps between Zjef (Jan Van den Bosch, 38) and Finn. After all, those two are family in real life, because Jan is Sam's dad. Jan, who has been playing in 'Family' for about ten years, married his childhood sweetheart Fran in 2019, whom he had known for 15 years. The two have two children together: son Lou (9) and Sam (7).
'Home': the three women of Lowie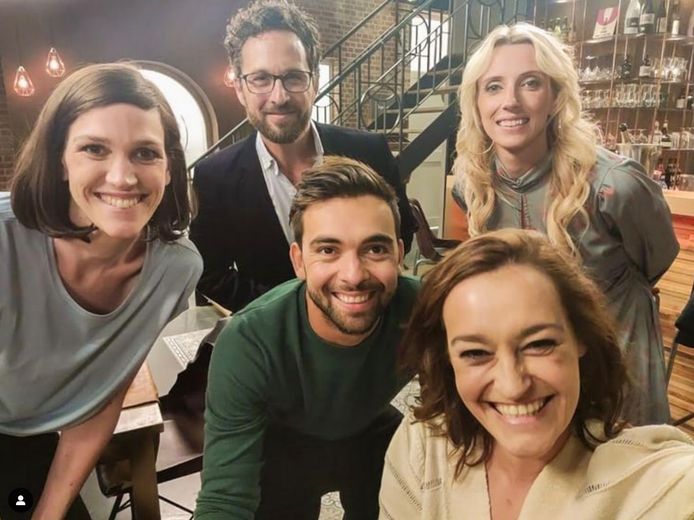 Here they are in one image: Lowie's three women (Mathias Vergels, 30) in 'Thuis'. With egg donor Katrien (Lotte Van Nieuwenborgh, 35), intended parent Paulien (Tina Maerevoet, 38) and surrogate mother Tamara (Tine Priem, 34), the single person in his thirties hopes to see his childhood dream come true. Bob (Christophe Haddad, 44) is in the picture, because as Tamara's husband, he is also somewhat involved in the entire project. On social media, viewers speculate that things will not go so smoothly and that the project will be canceled after all. Those soap fans still predict that Lowie and Viv (Lynn Van den Broeck, 29) will form a couple again and go for a child together.
'Home': tie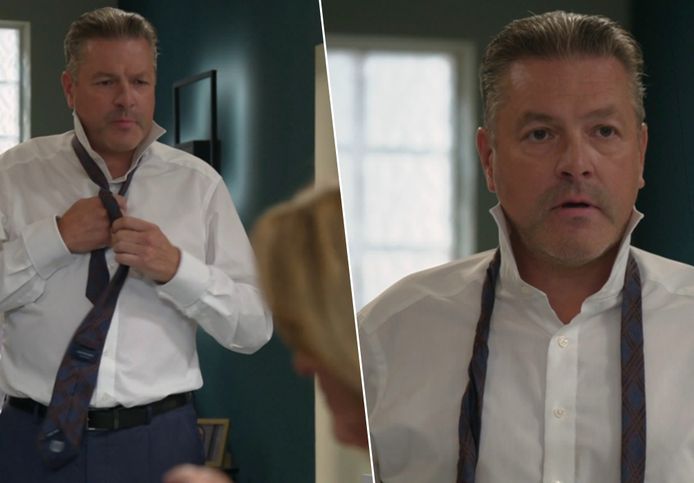 Sometimes a scene on the TV set is shot several times and footage from the different takes is used in the final editing. It is, of course, the intention that the chronology is respected. That doesn't always work, as it turned out recently in 'Thuis'. Tom (Wim Stevens) walked into the living room, tying his tie and while talking to Karin (Kadèr Gürbüz). When he came back into the picture, his tie was completely loose and Tom got help from Karin when tying.
'Home': Jimmy Dewaele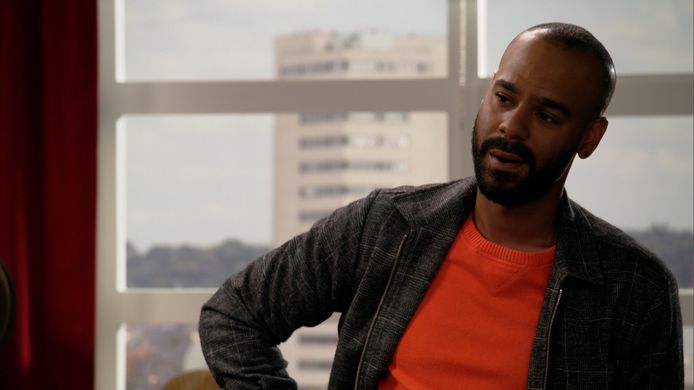 Actor Yemi Oduwale (36) contributed to the storyline of Dries who had to deal with a racist judge in 'Thuis'. "That my character will only have to deal with racism and consciously after four years in the series," said Yemi. "Otherwise it would have been too obvious. I hope viewers have forgotten that Dries has a different skin color, because then it will come in more intense and viewers will experience it like me. Since I've been on TV, it's bothered me less, but every now and then I'm still reminded of it. I'm trying to buy an apartment now, but when I tell the real estate agent my name on the phone, I often get to hear: 'What a strange name' and the enthusiasm on the other end often diminishes. When I wanted to rent, I often used the name Jimmy Dewaele. Then it seemed afterwards, as if they had misheard me."
'Home': choosing together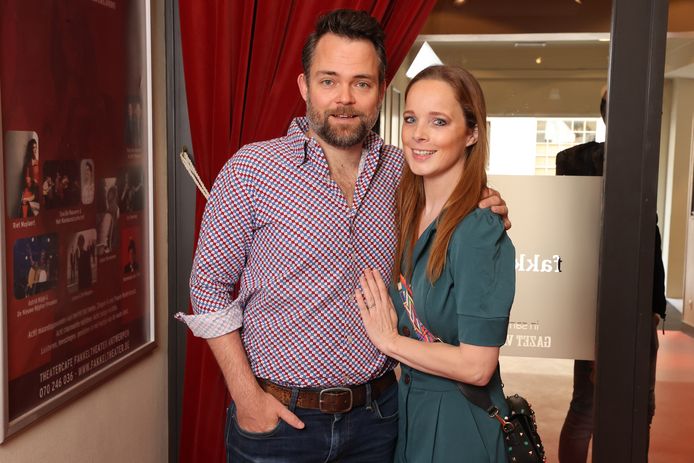 In 'Thuis' Christine is about to get married, but also in real life Daphne Paelinck (34) plans a wedding. "Randall and I have been engaged for over a year now, but we haven't had much time to prepare for our wedding," said Daphne. "In any case, I will not be an irrational and perfect bride like my character in 'Home'. That's not the nature of the beast. Randall and I want to make our wedding a fun party without much tralala. Outdoors and with food trucks. We will also choose my wedding dress together."
'Family': escort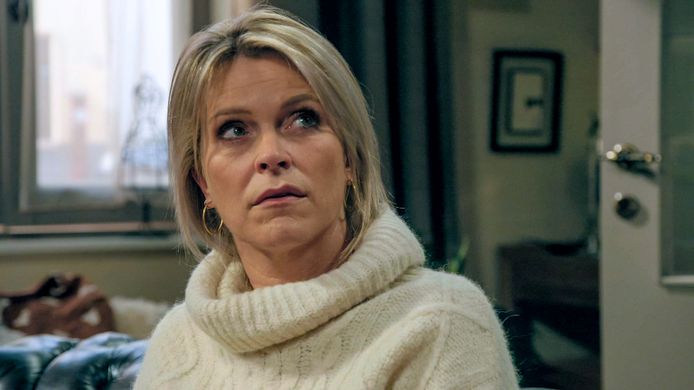 In 'Family', Vanessa's secret is revealed that she used to work as an escort for a while. "When I knew I had to play heavy scenes, I was very scared," says actress Karen Damen (48). "I really thought I would never be able to play that. Until now I was almost always 'myself' in 'Family'; because Vanessa is a cheerful woman who likes to act silly, just like me. But such emotional and dramatic scenes are completely out of my comfort zone. I've been shouting from the rooftops for years that I absolutely love acting, now was the time to prove myself. I've pushed my limits, yes. It's a great feeling to realize that at 48 I'm still doing things I didn't know I could do."
'Beautiful and ruthless': dressed as Ridge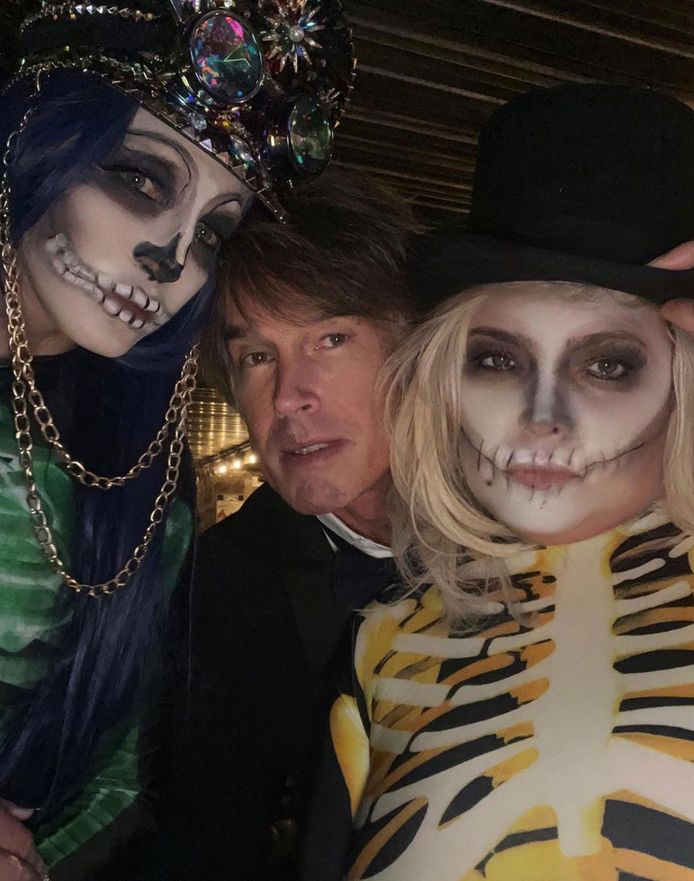 Ronn Moss posted a funny selfie between two Halloween creeps on his Instagram. His comment: "I was dressed as Ridge Forrester," referring to his character's name in "Beautiful and Unforgiving."
ALSO READ:
Lead screenwriter of 'Family' had to quit due to MS diagnosis: "The job was at the expense of my health" (+)
Future of 'Home' uncertain for the first time: "Up to 400 euros less net salary per month. They put us on sale" (+)
This week in 'Family': Lars and Koen clash and the mystery of the 'bare breasts'
Free unlimited access to Showbytes? Which can!
Log in or create an account and don't miss out on any of the stars.

Yes, I want free unlimited access